Join us in April for not one, but TWO jam packed webinars!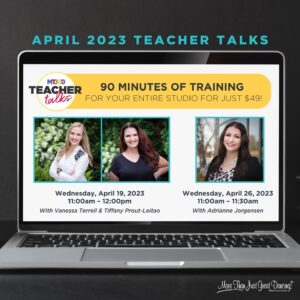 ---
Wednesday, April 19, 2023, 11:00am-12:00pm (CST) | With Vanessa Terrell & Tiffany Prout-Leitao
Learn about how to make SAFETY a pillar of your studio!
Acquire practical tips and tools for physical, mental, and emotional safety
Discuss best practices for safety in and out of your studio
Build trust with your students, parents, and community as you build a reputation for being the SAFE choice for dance in your area
---
Wednesday, April 26, 2023, 11:00am-11:30am (CST) | With Adrianne Jorgensen
Gain confidence in the roadmap to mastery within the classroom!
Learn to encourage students to lean into the process of practice
Develop skills to speak confidently with parents about the dancer's progress
Discover easy to follow steps and language around the idea of mastery
---
Get access to both April webinars for only $49 for your ENTIRE staff… and you will receive access to the replay for 60 days!
If you have any questions, please email events@morethanjustgreatdancing.com.