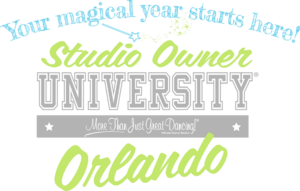 Get ready to connect, learn and recharge!
Are you ready to dive deep into content that will leave you feeling motivated and ecstatic about your future?
We are excited to see you again, IN PERSON, at Studio Owner University® – Orlando! These three days will be filled with top-notch content, so much fun, and, most importantly, the time to reconnect with like-minded friends worldwide.
We promise this event will be MAGICAL, and we cannot wait to share another fantastic SOU™ experience with you. So don't wait, and register for Studio Owner University® Orlando 2023.
_____________________________________________________

Accommodations and stay at Disney
We are thrilled to bring Studio Owner University® to Orlando, Florida, and to be located at one of the most magical places in the world, Disney World!Your registration to Studio Owner University® opens up some other amazing perks like big savings on the stay and tickets to the Disney events and theme parks!To get started, visit the link below to reserve your room and take advantage of the other amazing add-ons!
Questions? Email events@morethanjustgreatdancing.com