We're sorry! This event has ended!
---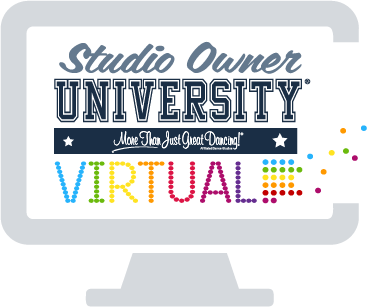 February 8-11, 2021

Studio Owner University® is dedicated to bringing studio owners the most up-to-date and relevant content to help your studio in these times! Innovation drives us to produce a VIRTUAL event unlike any other in the studio industry!

Misty Lown, owner of More Than Just Great Dancing!®, will be leading fast-paced, content-jammed business courses and coaching. In addition, re-charge your batteries with like-minded studio owners from across the country during the time of year you are actually making programming decisions for fall!
Based on YOUR requests, business topics to be covered include:
• Marketing for Growth, Graphic Design and Branding
• Increasing and Managing Your Enrollment
• Growing Your Bottom Line with Finances & Budgets
• Maximizing Software to Grow Your Business
• Re-Imagining Recitals & Performance Companies
• Doing better business so you can do greater good in your community!
Studio Owner Ticket (Non-MTJGD Member): $399
Additional Guest Ticket: $199
Rising Leader Ticket: $49