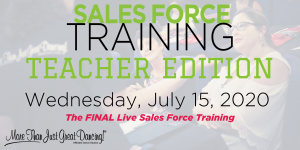 The latest iteration of Sales Force Training is here!
Join expert sales trainer, Alana Hess, for an unprecedented view of practical application sales training for teachers in the classroom. This training is specifically designed with educators and program directors in mind and will transform your teaching staff into sales and retention masters! If you need to get your teaching staff working in a service selling mindset and support your business growth goals through sales, this training is for YOU!
Registration for SFT Teacher Edition is now open for More Than Just Great Dancing!® Members! Check out the member dashboard for registration information HERE.
Topics Include:
Pitch-free selling system

Student-centric sales approach

Systems for family re-sell and retention

Confident classroom up-sell

Front lines sales initiative training
Don't miss out!