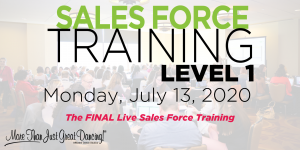 Ready to transform your team into a powerful steam engine for sales and growth? Come to MTJGD's Sales Force Training event and give your business a radical sales facelift! Get on board!
Registration is now OPEN for More Than Just Great Dancing!® Members! Check out the member dashboard for registration information HERE.
Training topics include:
Discovering your authentic sales style
Conquering sales fear and aversion
Identifying ideal buyer personas for your product and market
Exploring ground-breaking prospecting tools for success
Generating leads that convert to clients
Increasing profits and ROI through compelling sales processes
Learning key concepts for overcoming buyer objections and closing deals
Designing achievable sales goals
Creating a comprehensive annual sales plan
Retaining relationships and renewals
Don't miss out!