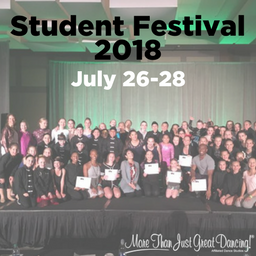 Date & Venue:
July 26-28, 2018
Minneapolis, MN
Student Festival Registration Coming SOON!
More Than Just Great Dancing® Student Festival.
The purpose of this Student Festival is to create a space for dancers to connect and share their stories in an uplifting and supportive environment. You are invited to join us at this one-of-a-kind dance festival where everyone, no matter their skill, age, or backgroud is welcome! Let's make the dance world a little bit smaller by connecting and growing together!
Don't Miss Out!
Registration for this event is coming soon!
Questions?
Please contact us. We look forward to seeing you in Minneapolis!